I've recently returned from a three day stay at health retreat Billabong Retreat. Located in Maraylya, 45mins from Sydney, Billabong Retreats offers a serene and rejuvenating getaway that is perfect for anyone seeking respite from the stresses of daily life (without breaking the budget). With its delightful vegetarian biodynamic meals, tranquil rooms, captivating forrest location, and a range of wellness activities including yoga and meditation, Billabong Retreats is an idyllic sanctuary that promises a health reset for those in need (and boy did I need it!).
I arrived at 2pm on Monday, and floated out after lunch on Wednesday, plus got to interview the enigmatic owner Paul Von Bergen for my podcast Healthy Her. Two nights, almost three days and I felt like a new human. It was long enough to really reset my energy and remove any overwhelm, but short enough that life back home didn't fall apart (as can often happen when Mum goes away!). Next time I'll be staying for five days, now that I know the family was fine. Read on for my honest review…
Who is Billabong Retreat Suited To?
I was blown away at the number of Mums there. In my group of around 30 people, I would say 20 of them were Mums (many with toddlers, not just older kids), about 5 blokes and a mix of Grandma's and hard working people with no kids but super busy work projects (a few from the film industry). Most people came alone (like me), but there were some that came in twos. Some really kept to themselves, which felt totally fine (not weird at all), whilst others were happy to mingle and connect. The way the communal dining room is set up does not feel intimidating or uncomfortable if you are alone, quite the opposite actually.
How Does the Retreat Work?
Each retreat has a theme, I was on the mediation and yoga retreat, and the one after me was a stress release retreat. Here is a list of all retreats on offer and There is a daily schedule of activities, which are all completely optional, follow them or do your own thing. A day usually looked like this:
7am: Yoga
8:15 Breakfast
9am Workshop (based on the theme of your stay, mine was all about meditation)
11am Yoga
12pm Lunch
3:30 and 4:30 Yoga (different location on the deck overlooking the Billabong)
6:30pm Dinner
7:30 pm after dinner activity (meditation, movie, or live music)
In addition to this there is a gorgeous wellness spa with treatments from massage, to kinesiology, iridology, naturopathy, or if you prefer alone time, infrared saunas and a magnesium pool.
Tranquil Rooms
I was really pleasantly surprised by the accommodation, especially for the reasonable price (such good value compared to other retreats). There are lots of room options to choose from with varying price points. For those budgeting, there are shared rooms and bathrooms, or for those who want privacy I would recommend the brand new Deluxe Cabins (Room 16, 17 or 18), private king bed, bathroom with bath, views of the Billabong, plus with a bath on the balcony (SO good!), and swinging egg chair. These are a 5min walk from the main building, but so worth it. Pony Rider decor, natural textures and gorgeous lighting, I felt very at home there. Be sure to check out their special offers for discounts and value adds.
Vegetarian Biodynamic Meals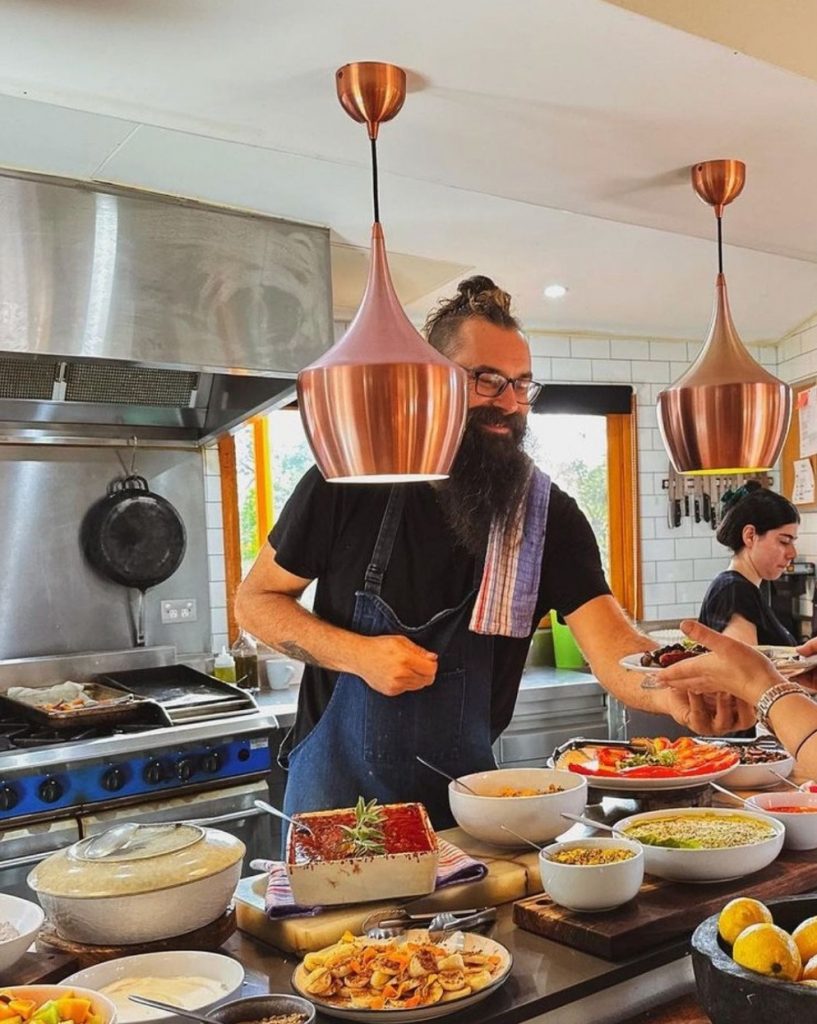 One of the highlights and real surprises of the retreat was the exceptional wholefood experience provided by their in-house chef. Each meal was meticulously prepared with a focus on vegetarian and biodynamic ingredients, sourced from a local farm nearby. The meals were not only delicious, but really created a wholesome and nourishing dining experience. The menu featured an array of flavourful and inventive dishes that were low inflammatory with high nutrient profiles. From vibrant salads bursting with freshness to hearty and comforting plant-based slow cooked stews, to risotto, and baked dishes. All meals were gluten free, dairyfree, no added sugar, and vegetarian. The thoughtfulness behind the meals extends to accommodating special dietary requirements, making the retreat an excellent choice for those with specific food sensitivities.
The Atmosphere and Energy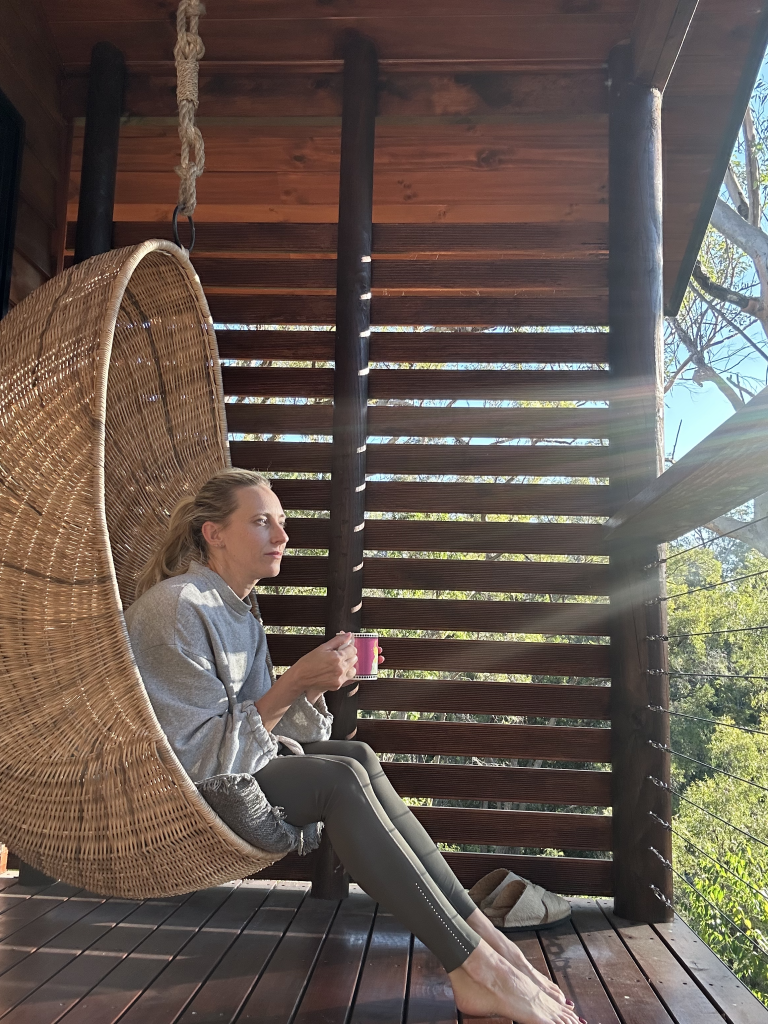 At Billabong Retreats, the emphasis on holistic wellness is evident through their comprehensive yoga and meditation programs. The overall energy is of complete nourishment, kindness, support and rest. Owner Paul Von Bergen dedicated the entire retreat to his late Mother, who he describes as a most loving, sensitive soul. There was an energy at Billabong that reflected this and I dare say that was no coincidence. For more on the background and vision of Paul plus his thoughts on how to get the most out of a retreat, listen to our Conversation on my podcast Healthy Her.
If life is leaving you feeling drained, overwhelmed and disconnected, do yourself a favour and book 3, 5, or 7 nights at Billabong Retreat. It will reset you and plant a seed of wellness that you can bring home and allow to bloom. Xx
PS Be sure to check out their special offers and follow on instagram.