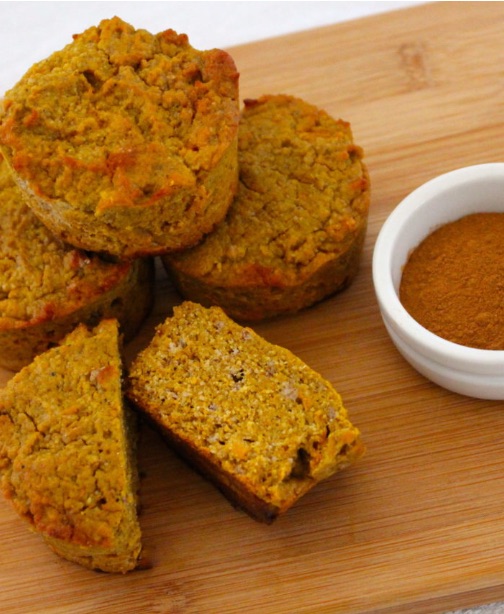 Print Recipe
Spiced Pumpkin Muffins
Coconut flour is a fantastic gluten free substitution as it is rich in protein, fibre, manganese and our fat burning medium chain triglycerides (MCTs).
These spiced pumpkin muffins are not only gluten free, but refined sugar free, dairy free and nut free, making them a delicious lunch box treat!
Ingredients
1/2

cup

coconut flour, sifted*

1

tsp

cinnamon

1

tsp

nutmeg*

1

tsp

all spice

1

tsp

baking powder

5

eggs, free range

1/2

small pumpkin (or 1 cup of mashed pumpkin)

1

tsp

organic vanilla essence (sugar free)

1/4

cup

coconut oil

1/4

cup

rice malt syrup
Instructions
Remove skin and slice pumpkin into small chucks. Steam, set aside to cool and mash.

Combine dry ingredients together in a large bowl.

Whisk eggs and add with pumpkin, vanilla, oil and rice malt syrup.

Spoon into a greased muffin tray and bake for 30 minutes or until they pass the skewer test.

Delicious served warm with a spread of organic butter. Enjoy.

*Contrary to popular belief, coconut is a fruit and nutmeg is a seed. These muffins are truly nut free, but they may not suit specific allergies. Unfortunately substitutions can not be offered as a careful balance of wet and dry ingredients is required for their success.