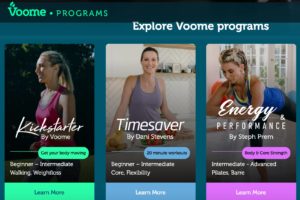 Nothing like the excitement of launching a new business! It's been a busy year as we embark on our latest venture – Voome Programs. Picture this; four week programs, complete with workout plans, videos, regular and vegetarian meal plans, shopping lists, education, motivation and the fusion of science and practicality. All of this led by Australia's most innovative experts, leaders in their chosen fields. Yep, that's what we've been beavering away at for the best part of two years and I am just SO excited to show you.
We all love to be motivated, and we all love a simple but comprehensive plan to follow, that's tailored to our requirements but not too restrictive. What's great about Voome Programs is that you know it's incredibly high quality programming, delivered using all the digital capabilities we've built through 12WBT, yet each program is so unique, different enough to give you a motivation injection – and you get to keep each program forever. Plus you will be introduced to Australia's leading experts, some are household names, others will be very soon. All will teach you something new about yourself and about health. Here's some of the programs we've launched: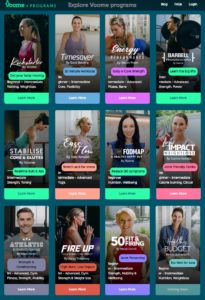 Kickstarter: A beginner weight loss program designed for anyone who's had a break from exercising. Led by me. A perfectly achievable fun way to get back into it and lose a few KG along the way.
Energy and Performance: Led by Olympian Steph Prem, this Pilates/Barre infused program will strengthen your posture, tone your entire body and teach you how easy it is to eat with a whole food philosophy. Steph broke her spine through her sport and discovered the power of pilates. Let her inspire you too.
Timesaver: 20min at home workouts, 15min meals. Designed for busy mums, led by lifestyle motivator, mum of four children under six, Dani Stevens. This fire cracker has over 1 million followers across her platforms and blows me away with her dedication to raising healthy happy kids.
Barbell Progressions: If you want to learn the mac-Daddy of moves in the gym, then sign up to Barbell Progressions. Tim Pittorino was trained by one of the worlds best Olympic lifters and over four weeks he will teach you the major lifts that are designed to take your strength to a whole new level. Great for guys and girls alike, and I can attest that nothing makes you feel like you can take on the world like learning how to lift. Rock on!
Ease and Flow: This Yoga program is led by Australia's number one Yoga star, Kate Kendall. She will take you through weekly 30-50min flows designed for people who love to feel relaxed and de-stressed but also like they've had a workout. Watching Kate's videos and listening to her voice will instantly take you to a zen place, where introspection and creativity happen. This is truly a magical program.
Stabilise – Core & Glutes: Led by Ex Gymnast Chooky Biordi, this program will strengthen your abs, butt and stabilise your spine. A fantastic program to do in conjunction with your other training. Particularly good for people with back and hip issues, runners, and people just wanting a butt like Beyonce! Just don't get distracted staring at Chooky's amazing bod like I did!
Low FODMAP: If you've ever suffered from irritable bowel and tummy discomforts you HAVE to do this program. Low FODMAP foods cover off about 90% of the IBS triggering foods. Led by Australia's expert in FODMAPs, Dietitian Lisa Donaldson, will guide you through the four week program, helping you identify your IBS culprits. Even if you just want to reduce bloating, this program will have you eating so well, you'll feel incredible (and no more quick trips to the loo!).
Low Impact Weight Loss: The holy grail of weight loss is finding effective high calorie burn moves that are low impact and gentle on joints. Fitness expert and model Justine Switalla has designed the BEST low impact weight loss program that will have you puffed and red faced without stressing your joints. Have fun, be challenged and save your knees!
Athletic Conditioning: I had the pleasure of working with Australia's Fittest man on this program, who also happens to be Australia's most humble man, Khan Porter. Khan is a Crossfit Games athlete who runs one of the best, most inclusive Crossfit Boxes I've ever seen. Don't let his incredible physique intimidate you, he works with 8 year olds to 80 year olds and is known as a programming guru. This athletic conditioning program is perfect for regular exercisers who want to be challenged but are by no means super fit. Khan teaches you how to think, feel and train like an athlete even if you're at the start of the journey. You will feel invincible after this program (and might get a small crush on this legend).
Fire Up: High intensity low Impact gym program: Led by one of Australia's female body shaping coaches Alexa Towersley, this gym based program is all about ramping up the intensity to change your shape but using low impact moves. It will teach you the latest, most effective moves that are super fun. Plus she coaches us on the right way to eat to get a stomach like hers!
50, Fit and Firing: Fitness Legend Wendi Carroll (remember aerobics Oz Style!?) has designed the most amazing over 50's program that is gentle on joints but gets you the results you need. She is such a specialist in this area and I learnt so much from her during the making of this program. A must for well loved  bodies who want to keep moving for decades to come.
More coming very soon: We've shot lots more programs and are launching one every month, so look out for these launching soon;
Power Through Pregnancy

Healthy on a budget

Movement and Mobility

Healthy Family Meals
Here's a 60 sec interview I did to give you some more info.
Who is Voome For?

Anyone who wants to follow a program that combines workouts and nutrition plans to motivate and deliver fab results.

Why did you decide to do it?

Because people like to try new things, they like to work their body with different goals in mind. This is what people asked for, and we knew we could create something world class.

What sort of programs are you creating?

A real mix of themes. From body shape results like weight loss to lifestyle solutions (time saver, healthy budget), we know the main challenges people face and we design programs to solve those.

Who are the experts heading up these programs?

I've scoured the country to source the best experts to head up these programs. I'm so excited to introduce them to you, and if you don't know them, you should!

Why are these programs better than other online programs?

12WBT is one of the richest digital fitness experiences out there and we've been able to take 8 years of learnings and wrap that into affordable programs that are different enough to keep people motivated. Plus when you sign up with us, you're not only getting the expertise from the program leaders but also from our huge team of incredible trainers, dietitians and psychologists. We've got every angle covered!

How have you produced so much content in such a short space of time?

Because that's what we do. We are efficient, we work fast, we spent a lot of time prepping so when we got the green light, we were all set to soar. It's been intense but soooo worth it! We've also engaged an incredible production team Bastion Stadium who have proven to be an invaluable partner.

What has the reaction been like?

Overwhelming! Members are loving how achievable the programs are, how well thought out the meal plans are (simple delicious quick dishes) and working with different experts. I love how so many are going through each program, doing one per month.

What has been your biggest learning with this venture?

Sourcing the best experts. I've now researched so many and what you see on instagram is often NOT what you get. Finding the real deal is an art form and I feel really privileged to have connected with some of the most truly talented people out there.

What does the future hold for Voome?

More programs for sure! I want feedback from members as to what programs they would like. I'd love to hold a national tour, showcasing our experts so you can meet them. A podcast, an app, and as always we are evolving our digital capabilities to enhance the experience for our wonderful members.
For more info, download our media kit or visit Voome.com.au/programs