I LOVE Soups. They tick all the boxes, delicious, healthy, filling (studies show soups fill you up for longer), cost effective and cooking efficient (one cooking effort, lots of serves). Here's one of my soup recipes, my Chunky Roast Tomato Soup. Enjoy and slurp away!!
Chunky Roast Tomato Soup Recipe
Serves 2
Approx. calories per serve 375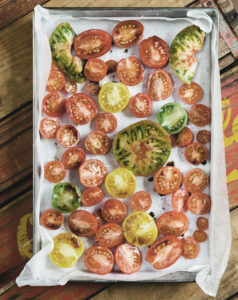 Ingredients
800g ripe tomatoes
1 clove garlic
4 tsp olive oil/spray
1 tbsp balsamic vinegar
1 tsp sugar
1 handful coriander stem & leaves chopped
500ml chicken stock
sml brown onion
1 carrot
2 slices of sourdough bread (approx. 96g total)
1 tsp butter
Method
Halve 650g of the tomatoes, place on a lined tray & drizzle with 2 tsp olive oil, balsamic vinegar, sugar & season.
Bake in the oven for 30 minutes at 200 degrees.
In the meantime, finely cut up the carrot, onion & garlic and gently fry with the remaining 2 tsp of oil.
Add the chicken stock to the pan and let it simmer.
When the tomatoes are ready, add to the pot and give it a good mix to help break up the tomatoes. (you can pick out the skins at this stage if you don't like them but it's fine to leave them in)
Stir through the chopped coriander incl. stems for some crunch, top with the reserved diced tomatoes and serve with a slice of lightly buttered sourdough toast – yummy !